District Facts

Location
The District encompasses almost 1,500 square miles of Park County, Colorado (2,194 square miles). The District terrain is a mountainous, glacial valley located on the Eastern slope of the Central Colorado Rocky Mountains with an average elevation of 9,000 feet above sea level. Four 14,000′ and numerous 13,000′ peaks of the Mosquito Range delineate the western boundary of the District.   View District Service Area Map
Click here for a Brief History of Park County
Stations
District crews respond to emergencies from three stations. Each station is staffed 24/7 by one Paramedic level crew.
Station 1 / Headquarters:

911 Castello Avenue, Fairplay. Opened 2003 & houses Medic 41 and Medic 42 (backup), MCI trailer, administration offices and training.
Station 2

12855 Highway 24 in Hartsel. Opened April 2022 & houses Medic 71 and Medic 72 (backup).

Station 3

35168 Highway 285, Michigan Creek (between Jefferson & Como). Opening 1st quarter 2023. Will house Medic 61 and Medic 62 (backup).
Equipment
Six 1st out ALS ambulances / All are Type I (truck chassis), all 4-wheel drive
Two 4-wheel drive Quick Response BLS Units
All ambulances equipped with the latest Advanced Life Support equipment & supplies
Mass Casualty Incident trailer with supplies for 35 patients.
 Staffing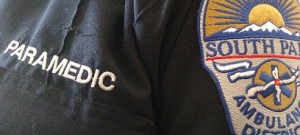 South Park Ambulance District has been a 911 response agency, providing Emergency Medical Services with career (paid employee) personnel since January 1,1992. The District is staffed 24/7 with three Paramedic-level crews. The 3 Fire Protection Districts located within the District co-respond on all emergency incidents. The fire districts provide 1st Responder and EMT-Basic-level care. Most mutual aid partners are at great distance from our service area.
All personnel perform their duties under the supervision of our Medical Director, through the Centura Health system. Crews utilize the Denver Metro Protocols . Monthly continuing education programs are provided through our education team and Centura Health Prehospital Emergency Services.
Statistics

1,200+ requests for emergency assistance are responded to on an annual basis. On average,  60% of incidents result in the ambulance arriving on scene within 15 minutes from our Fairplay Headquarters. Distant areas of the District are up to 45 minutes from Fairplay. Two outlying stations in Hartsel and south of Jefferson greatly reduce response times in those areas.
Two major US Highways (US285 & US24) and one State Highway (CO9) cross our service area. Our population increases significantly due to large number of summer-only, part-time, residents and significant tourism. It is estimated that on peak summer days our population increase to as many as 50,000 people. In the winter months traffic crashes are a significant part of our responses. Many people from the Denver metropolitan area, the southern Front Range of Colorado and states to our south and east access the major Colorado ski areas driving through our District.
Local Medical Providers
There are no hospitals or emergency care facilities in Park County. Primary care is available at the South Park Health Care clinic in Fairplay. See the Patient Transport  page for more information.