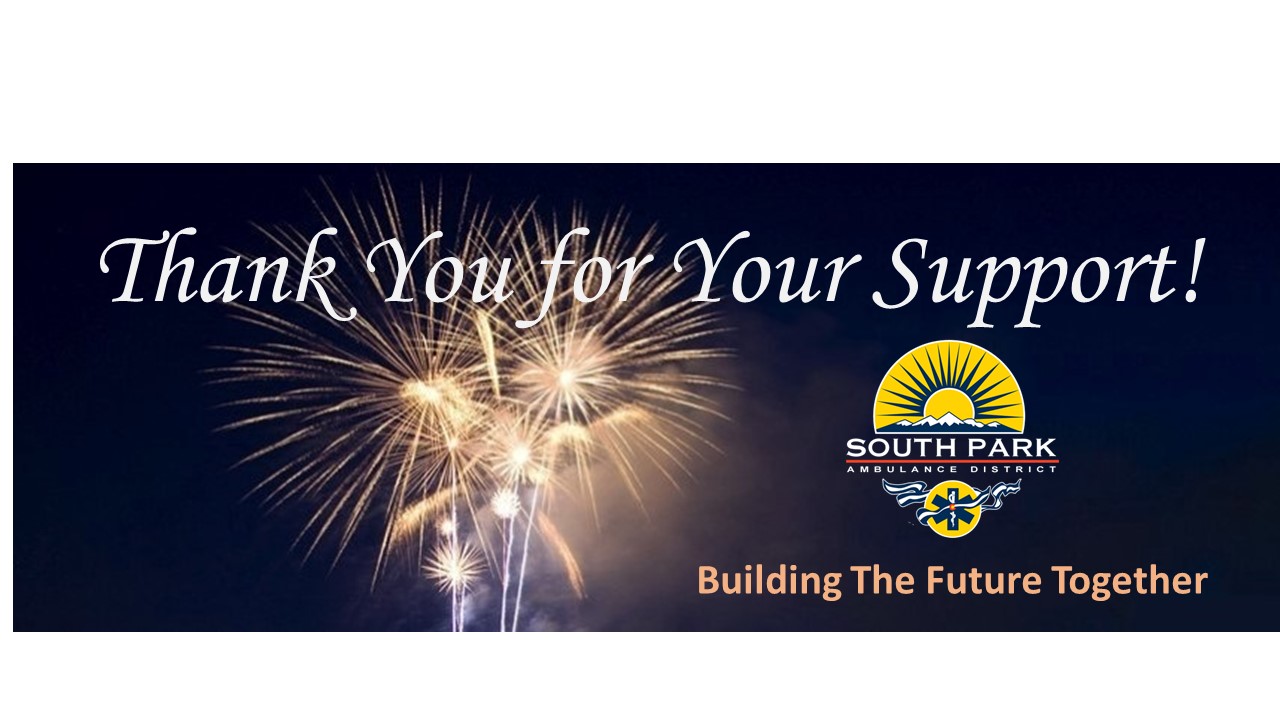 Today we celebrate the approval of our ballot question to increase the Mill Levy. Overwhelming community support resulted in a 60% YES vote. The Board of Directors of South Park Ambulance District have spent the past year researching additional funding options. We now will be able to provide enhanced services for the future.
The attached information provides details on the issues considered by the Board.
To review general information on where we are today, current & future challenges and proposed solutions please use the following link (PDF download):
SOUTH PARK AMBULANCE DISTRICT Survey Info
To review the results of the annonymous online Community Survey please use the following link (PDF download):
Learn about what is a Community Paramedic, what they do, how the community is served. use the following link:
COMMUNITY PARAMEDICINE – A MODEL
ADDITIONAL CONSIDERATIONS
2018 EMS Day At The Capitol brought together EMS Chiefs from around the state together to present concerns to our legislators concerning problems impacting the provision of Emergency Medical Services throughout Colorado. Specific  issues are available on the following links:
 Medicaid Reimbursement Rate Concerns
2017 Payor mix at South Park was 25% Medicaid / 24% Medicare / 10% Uninsured. Only 40% of patients had private health insurance. Currently Medicaid pays about 10% of billed amount and medicare pays about 25% of billed amount.
2018 Gallagher Amendment Concerns
The Gallagher Amendment requires the residential assessment rate to be determined on a statewide-aggregate basis. The soaring property values in the Denver Metro and front Range are having a huge negative impact on rural governments such as ours. When originally passed the Amendment required residential property to be assessed at a 21% rate and commercial at 29%. Due to increasing metro property values the projected residential rate is anticipated to drop to 6.11% in 2019.
The cost analysis concerning the ambulance, equipment, supplies & maintenance does not include the cost for personnel staffing.
For additional questions or comments please send emails to:  chief@southparkambulance.com